Self Storage has grown massively in Europe over the last years. In Germany the number of premium self storage locations grew from just 47 in 2009 to more than 130 today.
Compared to the UK (>1500), France (>480) or the Netherlands (>300), this is still a rather low number. The German Association of Self Storage therefore strongly believes there will be further grow in Germany.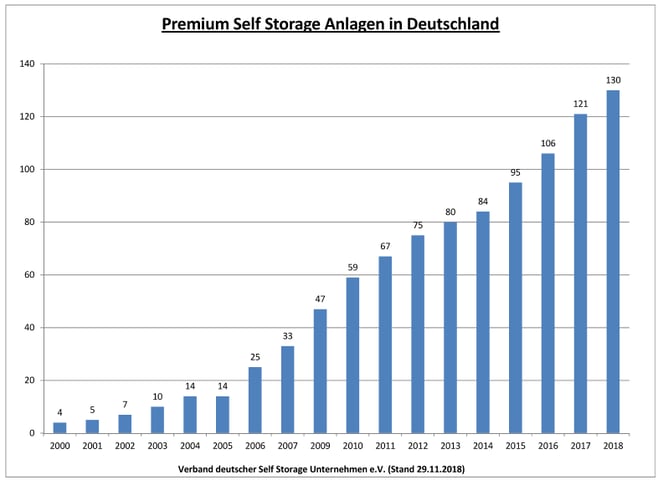 Quelle: Verband deutscher Self Storage
What are the reasons for this trend? Why is this segment currently growing so rapidly?
Changes within our society combined with a much higher mobility in today's workforce, where employees move more easily for a new job than previous generations, and the aspiration of millennials to have total flexibility in all aspects of their lives are leading to a greater need for additional storage room. Trends such as micro-apartments and co-living concepts only highlight these. Furthermore the shift in retail to online shopping is creating a huge number of online merchants that need flexible storage spaces for everything from goods delivery to creating physical workspaces to run their business within self-storage.
More and more self storage locations are spring up. In big cities such as Berlin the growth rate is in the double digits. However, within Europe, Germany is still behind in this development. Compared to the US this is even more striking. While in the US there are on average 0,9 m2 self-storage space per inhabitant, Germany counts just 0,006 m2. Anyone who has rented a self storage box before has likely realized how handy and uncomplicated it is. And they would surely miss the value that additional flexible space adds, when gone.
Digitalization as a chance?
Just as seen in many industries before, we will soon see a change with the self-storage industry. Driven by the user's demand for convenience and a better user experience , self-storage will change over time. It is also not only the traditional storage units themselves but rather the additional facility functionalities such as co-working or flex-offices which will combine to create new innovative offerings.
Currently, the big wave of digitalization has not yet reached self-storage. Yes, there are certainly improvements when you look at processes, such as several suppliers already offering the overall rental process via a web-platform including a measuring tool to calculate how much space you actually might need. But the overall value chain has not yet been fully digitalized end-to-end. This is where other industries come in to assist.
Driven by the innovation power of co-working spaces, which – based on their digital affine clients – offer a whole catalogue of digital possibilities, new approaches are leaning towards the storage-industry. Co-working spaces have sought to cater to many clients while using very few employees or, if not, at least utilizing their employees more for the customer interaction and community building rather than for operational processes. Their goal has been not only to find new automated billing systems for their various services offerings but also to easily grant access to buildings, offices and meeting rooms.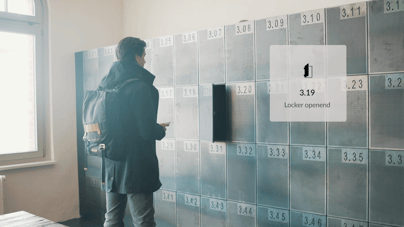 Mobile App-based access systems were first introduced in co-working spaces. App usage has also led to new services offered either free of charge or which have created new revenue streams. The factory in Berlin, one of the largest co-working spaces in Europe, firstly introduced digital lockers together with an app to access the building, booking meeting rooms, etc. igniting the path towards implementing the same technologies in the area of self-storage.
New Business models enabled by digitalization?
Digitalization in self-storage industry
initially only covered the setup and unit selection processes, however, rudimentary procedures such as access to individual storage units are now also being added. The traditional procedure for a 24/7 access to the storage building using a pin code and a mechanical lock at on the storage box can now be displaced by a seamless user experience.
Using only an app, users can now book, pay for and get immediate access to storage units and the facility, including: roll-up sheet doors, parking barriers, etc.). Additional facility services, such as co-working offers, are similarly covered: book a meeting room or flex desk and gain access to these rooms using the same app. The path to truly unmanned self-storage facilities is now clear, though in several cases the personal contact with employees still makes sense. The reduction of employees is undoubtedly possible, easily justifying the ROI of such a solution.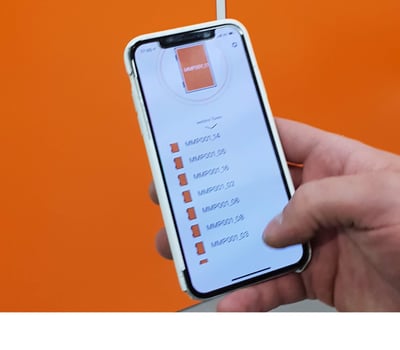 But what other new business models still be made possible through digitalization?
For that we need to take a look at the self-storage landscape once again.
There are large traditional self-storage facilities in good locations with sufficient parking space and plenty of today's workforce spend much of their days in long commutes with ever increasing driving time. Big self storage chains such as Shurgard, Lagerbox, Prime or MyPlace in Germany construct new or retrofit old buildings to serve the ever increasing demand for self-storage, and smaller "mom-and-pop" storage businesses for the most part following the trends of the big players.
The first so called "neighbourhood storages" are popping up. Here abandoned retail shops are transformed into self-storage facilities. These locations boast central location and shorter driving times for customers. With the traditional retail industry increasingly under pressure from online shops, there are increasing opportunities to acquire and transform these locations. Especially for these unmanned neighbourhood storage facilities, the advantages of a full fledged digitalization is obvious. And one app that can be used across several locations provides an even smoother user experience.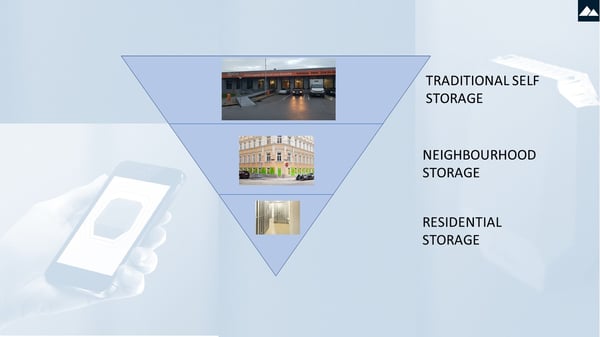 But what if we take this approach one step further? If you could offer even closer self-storage locations to the customer? By fully utilizing digital access tools, the possibility for "residential storage" opens up. These could be, for example, basement rooms or unused spaces in big apartment buildings.
With the help of a digital access system home owners and tenants can rent out unused spaces and basement rooms to those who need more space. Apartment complex owners could offer tenants and neighbors additional rooms or boxes to rent. Anyone who has ever had to manage with a ridiculously small storage room in the basement can appreciate the option and advantage of renting some additional square meters. Especially when it's offered short at notice and is fully flexible in terms of duration. Right now the first of its kind of residential storage is being executed in Berlin at Gleis Park. There tenants already have digital access to the building and their homes via app. The same app is also used to open the basement storage rooms. Residents are able to easily grant and share access rights from within the app. With that kind of business model a self storage company or the owner/operator of the building can achieve new additional revenue streams and the tenants/user can get additional storage without even having to leave their building.
This is clearly a new business model for storage, property owners, operators or portfolio managers all enabled through fully digitalizating access systems.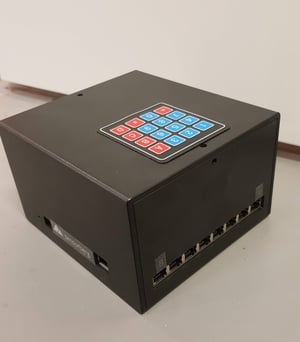 The underlying base is of course the IoT. At Sensorberg we are dedicated to these topics. The Factory in Berlin was the first of many co-working spaces that we equipped with a digital access system, which is also fully functional offline. In addition to smart buildings in the residential space we also offer solutions for self-storage, enabling the aforementioned new business models.
Stefan Scheuerle