Berlin/Hof, 1 June 2021 – The PropTech Sensorberg, which specializes in the digitalization of real estate and smart storage solutions, and SKS-Kinkel Elektronik GmbH, a company from Hof in the Westerwald region that specializes in building communication, are entering into a technology partnership. The cooperation aims to make digital building control more uncomplicated and thus increase user comfort, especially in the smart home sector.
For this purpose, the audio and video intercom systems developed by SKS-Kinkel will be connected to the intelligent Sensorberg platform via an interface. On this basis, tenants in buildings with the Sensorberg IoT platform being used for building control can control the intercoms digitally via an app. The house call is transmitted from the door station to the app so that the tenant can see who is ringing the doorbell and open the door remotely, even when they are out of the house. In addition, the house call appears simultaneously on the indoor intercom and also enables the door to be opened from here. In the next step, the integration of parcel stations and letterboxes from SKS-Kinkel is also planned.
The successful start of the cooperation between Sensorberg and SKS-Kinkel is the implementation of digital technology in the Gleis Park residential complex in Berlin. Further Flex-Office projects in Switzerland and a co-living project in Berlin are currently being implemented.
Stefan Scheuerle, CEO of Sensorberg, says: "The cooperation with SKS-Kinkel is an important step for Sensorberg. Because from a strategic point of view, the partnership offers us the opportunity to expand our ecosystem with an innovative management solution for intercoms, door stations, and soon also parcel and mailbox systems. In this way, we can cover an even wider range of use cases, functionalities, and diversity in the context of future Smart Living projects."
Christopher Kinkel, Sales Director of SKS, says: "We are aware of the importance of the change towards a holistic digital ecosystem in the real estate industry and therefore see ourselves more and more as a software-based service provider. We, therefore, develop our products and solutions so that they fit optimally into holistic ecosystems and thus offer added value for construction companies, property owners, and users. With Sensorberg, we have a partner at our side with whom we can succeed in achieving this goal."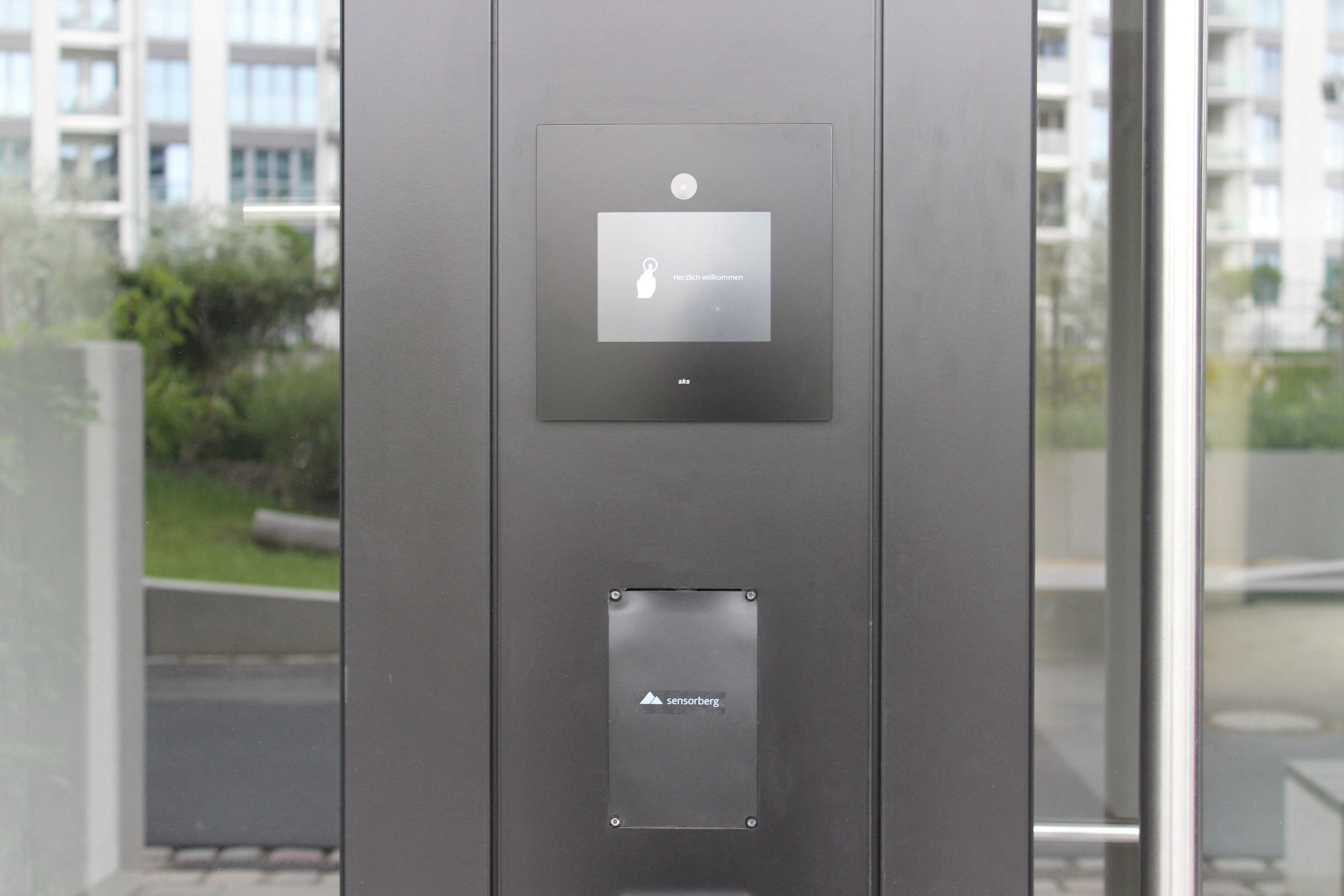 Video intercom system from SKS-Kinkel in combination with the digital access system from Sensorberg in the Gleis Park residential ensemble.

Image source: Sensorberg
About SENSORBERG GmbH
Sensorberg GmbH, based in Berlin, develops hardware and software for the digitalization and automation of buildings. PropTech specializes in solutions for coworking spaces, commercial and residential properties, and self-storage. Sensorberg installs access control systems and also equips buildings with a comprehensive digital infrastructure that can be used to easily and transparently control all processes via smartphone or tablet, from room booking to temperature control and the opening of lockers to visitors management. Intelligent technology can be connected to all management systems already in use. By evaluating the collected data, operators or owners have the opportunity to manage their buildings in the most effective and efficient way. When implementing individually tailored building solutions, Sensorberg can also combine different manufacturer systems and dock onto the open IoT platform in the background, independent of hardware. PropTech currently employs 30 people. https://sensorberg.com/
About SKS-Kinkel Elektronik GmbH
For over 40 years, SKS-Kinkel has been impressing with intelligent, sustainable, and conveniently operable solutions in the field of building communication, letterboxes, and parcel box systems. The door stations and internal call stations with their timelessly elegant design as well as the letterbox and parcel box systems can be found in single-family homes as well as in residential quarters, office buildings, or public facilities - from simple standard to sophisticated individuality. The owner-managed medium-sized company stands for high-quality and durable products, market-oriented services, customized solutions, and comprehensive consulting services. https://www.sks-kinkel.de/
Press Contact Sensorberg
Karoline Pantera
PR/Marketing Manager
Sensorberg GmbH
Mauerstrasse 79-80
10117 Berlin
Telefon: +49-3027583021
Mail: presse@sensorberg.com
Sabine Roth
Director
Feldhoff & Cie. GmbH
Grüneburgweg 14
60322 Frankfurt am Main
Telefon: +49-159-06264405
Mail: sr@feldhoff-cie.de
Press Contact SKS-Kinkel
SKS-Kinkel Elektronik GmbH
Christopher Kinkel, Vertriebsleiter
Im Industriegebiet 9 | 56472 Hof / Westerwald
Tel.: 02661 98088-0
Email: marketing@sks-kinkel.de